Mariupol, Ukraine Marriage Tour
Mariupol, Ukraine Marriage Tour
Bonus City - Mariupol!
AFA offers you a Special Bonus FREE with your tour to Donetsk!!! Enjoy amazing tour to Mariupol with no extra charge!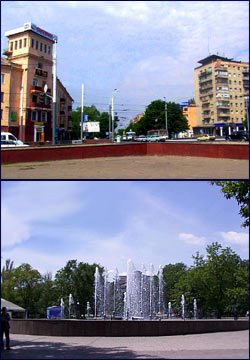 Mariupol is a splendid city situated on the coast of the Azov sea, at the mouth of Kalmius river, only 116 km from Donetsk.
The city was founded as Mariupol' in 1779 by Crimean Greeks. During World War II it was occupied by German forces from 1941 to 1943 and suffered heavy damage. For 41 years it was called Zhdanov in honor of Andrey Zhdanov, a Communist official.
Population of the city is more than 500,000 people and you have a great opportunity to meet many beautiful family-minded women there. These women have had just a little fortune to meet Western men and are enthusiastic about the occasion to do so.
You will arrive in Mariupol the day after the second Social in Donetsk and hold the third social that evening in Mariupol. The following morning you will return to Donetsk where you will enjoy the the rest of your tour.
You have really great opportunity to meet with the most gorgeous Ukrainian women and to visit two marvelous cities for the price of one! If you have any questions about this tour please feel free to contact any of our Romance Tour counselors.
Tours:

Russian Women Tours, Moscow
Russian Women Tours, St.Petersburg
Russian Women Tours, Volgograd
Russian Women Tours, Nizhny Novgorod
Russian Women Tours, Kazan
Russian Women Tours, Veliky Novgorod
Russian Women Tours, Rostov-na-Donu
Russian Women Tours, Ufa
Ukrainian Tours, Kiev
Ukrainian Tours, Donetsk
Ukrainian Tours, Dnepropetrovsk
Ukrainian Tours, Kharkov
Ukrainian Tours, Odessa
Ukrainian Tours, Krivoy Rog
Ukrainian Tours, Crimea
Ukrainian Tours, Zaporozhye
Ukrainian Tours, Poltava
Ukrainian Tours, Mariupol
Ukrainian Tours, Vinnitsa
Ukrainian Tours, Kherson
Ukrainian Tours, Sumy
Colombian Women Tours, Cartagena
Colombian Women Tours, Barranquilla
Colombian Women Tours, MedellinNEW!
Latin Women Tours, Lima, Peru
Latin Women Tours, Machu-Picchu, PeruNEW!
Latin Women Tours, Costa Rica
Asian Women Tours, Thailand
Asian Women Tours, Philippines
Multiple City Tours Information

A Foreign Affair

7227 North 16th Street, Suite 240
Phoenix, AZ 85020
(602) 553-8178
fax (602) 468-1119

Contact Us



THIS PROGRAM IS THE SOLE PROPERTY OF A FOREIGN AFFAIR AND MAY NOT BE COPIED IN ANY WAY OR FORM WITHOUT EXPRESS PERMISSION FROM A FOREIGN AFFAIR.

© COPYRIGHT 1996-2019 - ALL RIGHTS RESERVED.