Lima, Peru Marriage Tour
Welcome to one of South America's most Romantic Cities
The Capital City of Lima, Peru!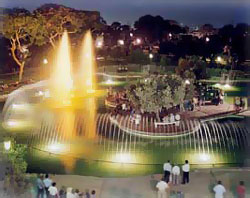 Nestled by the sea in the shadow of the majestic Andes is Lima, Peru - one of South America's friendliest and most unforgettable cities! Friendly because of the relaxed, laid back live-and-let-live atmosphere of the locals, and unforgettable because of the thousands of incredibly beautiful Latin ladies who live there!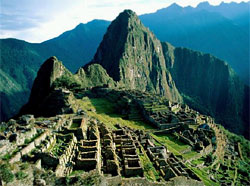 The city is a contrast of cultures. Downtown is thriving with interesting museums, a variety of restaurants and nightlife. The more coastal Mira Flores offers tranquil beaches, Mediterranean style hotels and a chance to watch hang-gliders soar from the rocks into the sunset. Yet every corner of this magical city offers a chance to meet an exotic, affectionate Peruvian princess! Lima is full of such breath-taking girls!
Men travel the world around to meet sincere, lovely foreign ladies. But men who come to Lima are searching for something more! They seek the most feminine, family-oriented, and exotic women Latin America can offer! Here the women look at you and smile showing shy excitement behind sparkling dark eyes. You'll be awed by their shapely, bronze-sculpted bodies, yet unbelievable sincerity and warmth! And it couldn't be easier to talk to Peruvian girls - all you have to do is say hello! Lima's lovely Latin women cherish the chance to meet a romantic, gentle foreign man!
Meet the exciting, exotic girls of Lima, Peru!

Our office staff has developed our presence in this city for over a year, and the women of Lima have been asking us for their chance to meet our male clients! There are literally hundreds of laid-back, down-to-earth ladies who have asked us to help them discover their true love! Such women are not impressed by looks or money, rather by what's in your heart! Latin America's most striking, sexy and sincere girls are waiting for you! Join us for a truly unique romantic adventure!
John,

I want to tell about my trip to Lima...it was great...plenty of pretty women and great food...
I would especially like you to tell Elixabeth Flores how sweet she is...
My plane flight to leave at 1:05 am was delayed until 2:45 am...she sat and talked with
me, kept me company until 2:00 am, when I went through security...

She was so nice and sweet!!!!

Jeff 9/6/05

The Lima Agency Hotel information


Latin Reservation Form
Introduction To Your Tour Experience
New Applicant Interviews
Three Socials
Testimonials From Past Tour Members
Typical Tour Itinerary
Frequently Asked Questions
Items To Consider...
Tour Insurance


Tours:

Russian Women Tours, Moscow
Russian Women Tours, St.Petersburg
Russian Women Tours, Volgograd
Russian Women Tours, Nizhny Novgorod
Russian Women Tours, Kazan
Russian Women Tours, Veliky Novgorod
Russian Women Tours, Rostov-na-Donu
Russian Women Tours, Ufa
Ukrainian Tours, Kiev
Ukrainian Tours, Donetsk
Ukrainian Tours, Dnepropetrovsk
Ukrainian Tours, Kharkov
Ukrainian Tours, Odessa
Ukrainian Tours, Krivoy Rog
Ukrainian Tours, Crimea
Ukrainian Tours, Zaporozhye
Ukrainian Tours, Poltava
Ukrainian Tours, Mariupol
Ukrainian Tours, Vinnitsa
Ukrainian Tours, Kherson
Ukrainian Tours, Sumy
Colombian Women Tours, Cartagena
Colombian Women Tours, Barranquilla
Colombian Women Tours, MedellinNEW!
Latin Women Tours, Lima, Peru
Latin Women Tours, Machu-Picchu, PeruNEW!
Latin Women Tours, Costa Rica
Asian Women Tours, Thailand
Asian Women Tours, Philippines
Multiple City Tours Information

Discover why more Romance Tour clients place their trust in A Foreign Affair each and every year than any other tour agency!
Now have all your Romance Tour questions answered by one of our Tour Representatives 7 days a week, from 9AM to 9PM MST, by calling our Tour Info line at (602) 332-7805
Announcing A Live Telephone Forum
to Answer YOUR questions about Foreign Brides!
Be a part of A Foreign Affair's only live telephone discussion group as our panel answers your questions concerning Foreign brides, immigration issues, cultural differences and Foreign marriage services/Singles Tours. Our panel often includes Ms. Jones, Immigration Attorney and Vice Chairperson of the Immigration section of the State Bar of Arizona, John Adams, President of A Foreign Affair, Bud Patterson, leading expert and author of Foreign Bride 101, past Romance Tour clients and real Foreign ladies who have married foreign men. You will be joined by up to 100 callers from around the world for an hour or more of informative, current, and important information for anyone considering meeting and marrying a foreign bride. It's free, informative, and fun, so mark it on your calendar and be sure to call in and join the conversation!

Please join us every Monday evening for our most popular General Q&A conference, Wednesday for the Asian Conference, all Conferences are from 9:30PM to 10:30PM Eastern Time. Thursday for the live webcast, (special time 8:30 PM Eastern Time) Participation is easy and FREE (normal long distance charges will apply). Simply call 1-404-920-6610 and when prompted enter conference code 935905# Once you have joined the conference simply press *1 to join the conversation!
A Foreign Affair

7227 North 16th Street, Suite 240
Phoenix, AZ 85020
(602) 553-8178
fax (602) 468-1119

Contact Us



THIS PROGRAM IS THE SOLE PROPERTY OF A FOREIGN AFFAIR AND MAY NOT BE COPIED IN ANY WAY OR FORM WITHOUT EXPRESS PERMISSION FROM A FOREIGN AFFAIR.

© COPYRIGHT 1996-2019 - ALL RIGHTS RESERVED.