Kazan, Russia Marriage Tour
KAZAN ROMANCE TOURS!
Click here for the reservation form with a complete list of tour dates and prices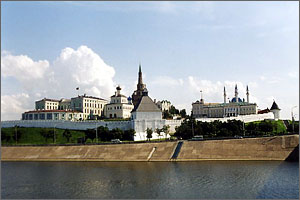 Meet the lovely women of Kazan on this virgin Romance Tour! In addition to Kazan's other attractions, this city holds some of Russia's most beautiful women! The population of Kazan, well over 1 million, is so diverse you will find some of the women to be an irresistible blend of Slavic, Asian and Eastern features while others retain their pure Slavic influences. Shiny black hair and dark eyes - or Scandinavian blonde with green eyes, and exquisite, feminine figures are complimented by a natural charm, warmth and affection so typical of Eastern European and Asian women!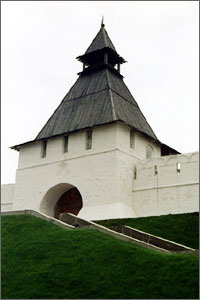 Our Kazan Romance Tour package features a 4-star hotel and 3 large Champagne Socials with hundreds of sincere and gorgeous women in attendance. We'll whet your appetite by spending our first 3 days and one Social in Moscow, Russia's modern, metropolitan capital. Then we'll take you back in time to a truly romantic city - Kazan - where the women dream of meeting a loving, gentle and family-oriented foreign man! You'll be the center of attention as we introduce you to the most charming and unbelievably lovely ladies you've ever met! Join us for our first, unforgettable Romance Tour to Kazan!
Nestled in Russia's interior, on the right bank of Europe's largest river, the Volga, is the historic city of Kazan. This 10 century-old intersection of eastern and western cultures boasts some of Russia's oldest architectural masterpieces. A tour of Kazan's Old City will take you back to a medieval time as you walk in the white silhouette of the Kremlin Wall, or view the legendary Sujumbike Tower. Legend has it that in the 16th century Ivan the Terrible built the tower for Kazan's Queen Sujumbike, in hopes of impressing her into marriage, yet she climbed to the top and leapt to her death in defiance. Kazan is a city full of legends like this, immortalized by Russia's most treasured writers, Leo Tolstoy and Alexander Pushkin, who both lived and wrote here.
Kazan is a city of terrific culture, boasting 16 professional theaters, 27 museums, a State Symphonic Orchestra, and annual festivals like the International Opera Festival or the festival of Classic Ballet. Yet Kazan's nightlife offers a variety of nightclubs, sports bars and restaurants! When you and your lovely Russian lady have had your fill of the nightlife, you can end the evening with a romantic walk along the Volga's riverbank.




Tours:

Russian Women Tours, Moscow
Russian Women Tours, St.Petersburg
Russian Women Tours, Volgograd
Russian Women Tours, Nizhny Novgorod
Russian Women Tours, Kazan
Russian Women Tours, Veliky Novgorod
Russian Women Tours, Rostov-na-Donu
Russian Women Tours, Ufa
Ukrainian Tours, Kiev
Ukrainian Tours, Donetsk
Ukrainian Tours, Dnepropetrovsk
Ukrainian Tours, Kharkov
Ukrainian Tours, Odessa
Ukrainian Tours, Krivoy Rog
Ukrainian Tours, Crimea
Ukrainian Tours, Zaporozhye
Ukrainian Tours, Poltava
Ukrainian Tours, Mariupol
Ukrainian Tours, Vinnitsa
Ukrainian Tours, Kherson
Ukrainian Tours, Sumy
Colombian Women Tours, Cartagena
Colombian Women Tours, Barranquilla
Colombian Women Tours, MedellinNEW!
Latin Women Tours, Lima, Peru
Latin Women Tours, Machu-Picchu, PeruNEW!
Latin Women Tours, Costa Rica
Asian Women Tours, Thailand
Asian Women Tours, Philippines
Multiple City Tours Information

Discover why more Romance Tour clients place their trust in A Foreign Affair each and every year than any other tour agency!
Now have all your Romance Tour questions answered by one of our Tour Representatives 7 days a week, from 9AM to 9PM MST, by calling our Tour Info line at (602) 332-7805
Announcing A Live Telephone Forum
to Answer YOUR questions about Foreign Brides!
Be a part of A Foreign Affair's only live telephone discussion group as our panel answers your questions concerning Foreign brides, immigration issues, cultural differences and Foreign marriage services/Singles Tours. Our panel often includes Ms. Jones, Immigration Attorney and Vice Chairperson of the Immigration section of the State Bar of Arizona, John Adams, President of A Foreign Affair, Bud Patterson, leading expert and author of Foreign Bride 101, past Romance Tour clients and real Foreign ladies who have married foreign men. You will be joined by up to 100 callers from around the world for an hour or more of informative, current, and important information for anyone considering meeting and marrying a foreign bride. It's free, informative, and fun, so mark it on your calendar and be sure to call in and join the conversation!

Please join us every Monday evening for our most popular General Q&A conference, Wednesday for the Asian Conference, all Conferences are from 9:30PM to 10:30PM Eastern Time. Thursday for the live webcast, (special time 8:30 PM Eastern Time) Participation is easy and FREE (normal long distance charges will apply). Simply call 1-404-920-6610 and when prompted enter conference code 935905# Once you have joined the conference simply press *1 to join the conversation!
A Foreign Affair

7227 North 16th Street, Suite 240
Phoenix, AZ 85020
(602) 553-8178
fax (602) 468-1119

Contact Us



THIS PROGRAM IS THE SOLE PROPERTY OF A FOREIGN AFFAIR AND MAY NOT BE COPIED IN ANY WAY OR FORM WITHOUT EXPRESS PERMISSION FROM A FOREIGN AFFAIR.

© COPYRIGHT 1996-2019 - ALL RIGHTS RESERVED.