Information about hotel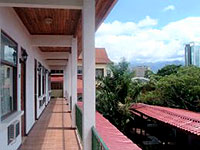 The Agency Hotel is perfectly located in the old town district of central San Jose, Costa Rica. In easy walking distance you'll find the National Zoo, Parque Bolivar, the National Theater, all the major museums, the cobbled pedestrian shopping district of Avenue Central, colorful old world market place, restaurants and night life.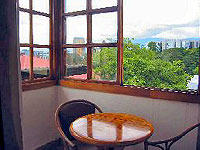 The hotel is a beautifully restored Spanish mansion with all new electrical and plumbing systems while retaining all of the original turn of the century elegant charm. Paddlewheel fans, antique Spanish tile and hardwoods abound throughout the Inn. The Agency Hotel offers 12 original and unique rooms and the Ambassador Suite all with modern hot water baths, cable TV and new quality bedding. The Hotel has a Restaurant and a bar, billiards room, meeting rooms, free internet access, writing tables, parking, air-conditioning in select rooms, room service for food and drink, room safes at modest rates and the best views in San Jose. The courtesy buffet breakfast is served on the balcony of the restaurant overlooking the gardens offering fresh fruit and juices, boiled eggs, bread and toasts and typical Costa Rican gallo pinto.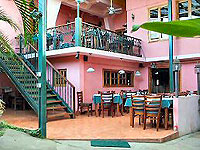 San Jose is a bustling city nested inside a tropical paradise of Costa Rica. The temperatures are usually in the high seventies while dropping slightly in the night for comfortable sleeping. The weather in San Jose is temperate, never getting extremely hot or cold. May through November is the rainy season, though the rain falls only in the afternoon and evening, refreshes and creates the setting for clear cool evenings; you never need more than a light jacket.

San Jose immediate surroundings include the most ethereal landscapes anywhere, pristine mountains and rivers, volcanoes, centuries old adobe villages and green coffee plantations, none more than a half hour drive or bus ride from San Jose.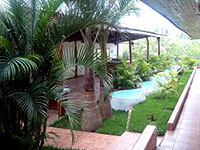 The Agency Hotel is located on almost a half acre of land located at one of the highest points of San Jose giving fabulous views of the city and the surrounding mountains.

The Hotel offers 10 new villas located in the private tropical garden, half with kitchenettes and all with private baths, air conditioning, paddle wheel ceiling fans, bath tubs, cable T.V. and the same charm and warmth of the mansion. Also featured in the private garden is a bubbling water pond and an open air cafe offering tropical drinks and a table view grill preparing fresh seafood, steaks and local dishes for your casual eating relaxing.

American owned with an international bilingual staff, The Agency Hotel is assured of complete comfort and attention to all your desires. Although open for less than one year many of the guests have returned for extended stays after visiting the hotel on a previous trip.

For more information please call our office at 602-553-8178 (ext. 209).

Reservation Form
Photos From Recent Tours
Introduction To Your Tour Experience
New Applicant Interviews
Three Socials
Hotel Information
Testimonials From Past Tour Members
Typical Tour Itinerary
Frequently Asked Questions
Items To Consider...
Tour Insurance


Tours:

Russian Women Tours, Moscow
Russian Women Tours, St.Petersburg
Russian Women Tours, Volgograd
Russian Women Tours, Nizhny Novgorod
Russian Women Tours, Kazan
Russian Women Tours, Veliky Novgorod
Russian Women Tours, Rostov-na-Donu
Russian Women Tours, Ufa
Ukrainian Tours, Kiev
Ukrainian Tours, Donetsk
Ukrainian Tours, Dnepropetrovsk
Ukrainian Tours, Kharkov
Ukrainian Tours, Odessa
Ukrainian Tours, Krivoy Rog
Ukrainian Tours, Crimea
Ukrainian Tours, Zaporozhye
Ukrainian Tours, Poltava
Ukrainian Tours, Mariupol
Ukrainian Tours, Vinnitsa
Ukrainian Tours, Kherson
Ukrainian Tours, Sumy
Colombian Women Tours, Cartagena
Colombian Women Tours, Barranquilla
Colombian Women Tours, MedellinNEW!
Latin Women Tours, Lima, Peru
Latin Women Tours, Machu-Picchu, PeruNEW!
Latin Women Tours, Costa Rica
Asian Women Tours, Thailand
Asian Women Tours, Philippines
Multiple City Tours Information

A Foreign Affair

7227 North 16th Street, Suite 240
Phoenix, AZ 85020
(602) 553-8178
fax (602) 468-1119

Contact Us



THIS PROGRAM IS THE SOLE PROPERTY OF A FOREIGN AFFAIR AND MAY NOT BE COPIED IN ANY WAY OR FORM WITHOUT EXPRESS PERMISSION FROM A FOREIGN AFFAIR.

© COPYRIGHT 1996-2019 - ALL RIGHTS RESERVED.