Barranquilla, Colombia Marriage Tour
BARRANQUILLA WOMEN SINGLES TOUR
Upcoming Barranquilla Tour:
To Be Announced

The Barranquilla Agency Hotel information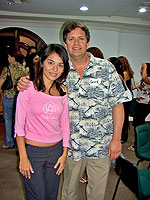 Barranquilla, Colombia's largest coastal city located two hours north of Cartagena on the Carribean Sea is home to some of South America's most exotic women! People from around the world are drawn to Barranquilla's laid back, "live and let live" culture, unaware of the thousands of beautiful, charming girls who inhabit this unique costal region of Colombia. A walk on the beach, or through the city's lively boulevards will reveal a perfect blend of Spanish, African and Indeginous features - dark eyes, shiny black hair, coffee colored skin, voloptuous figures, genuine smiles...the only thing more amazing than the women themselves is how they have remained hidden and unrecognized from the rest of the world. Hidden and unrecognized to everyone, that is, except those who have experienced these unforgettable women!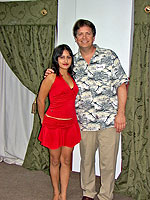 Barranquilla ladies are everything we dream Latin women to be: feminine, flirty, soft and sensual. Most come from large families where women are trained to love, support and take care of their men. Colombia boasts one of the world's lowest divorce rates - evidence of the serious commitment Colombian women make to their husbands and families. You can see their passion for love and life in the way they look at their men. They simply live to love and be loved!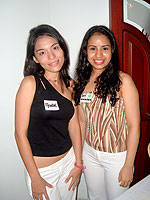 Barranquilla women seem to have been influenced by their lives near the sea. There is a steady, fluid wave-like motion in the way they move. It is graceful and perfect and each part of their body seems to be completely aware of what all other parts are doing. Dancing is pure seduction as they melt with their partner to find perfect rythm. Dancing with a Colombian girl is so intimate, many young girls will not dance on a first date!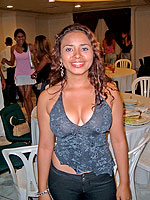 Charming and sincere, Barranquilla ladies are as laid back as the city itself. They love to be approached, complimented and showered with attention. And Barranquilla ladies romanticize the whole idea of meeting an equally romantic, marriage-minded foriegn man! Having heard that foreign men are more faithful and family-oriented then the men of their culture, they deeply desire to give themselves completely to such a man.

Let us introduce you to the girl of your dreams! A Foreign Affair's Barranquilla Tours are the perfect blend of paradise and romance! You'll meet hundreds of these unforgettable women in a comfortable, relaxed setting with plenty of support on hand! There will be no shortage of fun things to do in a city that offers beatiful beaches, trendy night-clubs, and a variety of restaurants, markets and sports bars!

Make your reservation now - and take the first step to realizing your dream of having your very own Barranquilla beauty. We'll show you how easy and exciting a Romance Tour can be!
Barranquilla Tour Reservation form
| | |
| --- | --- |
| Latin Tour Packages include | Value |
| Airport pick up | $35 |
| Platinum membership | $95 |
| Fiancee visas kit | $89 |
| Latin club membership | $495 |
| Two Socials 35 to 70 women | $500 |
| Hotel single occupancy | $490 - $750 |
| Personal introductions, up to three per day. | |
| Translator during socials | |
| Airport dropoff | $35 |
| Total Value: | $1,739 to $,1979 |
| Savings: | $ 844 to $1,088 |
These are Express Tour Packages vs Full Tour Packages.




Latin Reservation Form
Introduction To Your Tour Experience
New Applicant Interviews
Three Socials
Hotel Information
Testimonials From Past Tour Members
Typical Tour Itinerary
Frequently Asked Questions
Items To Consider...
Tour Insurance


Tours:

Russian Women Tours, Moscow
Russian Women Tours, St.Petersburg
Russian Women Tours, Volgograd
Russian Women Tours, Nizhny Novgorod
Russian Women Tours, Kazan
Russian Women Tours, Veliky Novgorod
Russian Women Tours, Rostov-na-Donu
Russian Women Tours, Ufa
Ukrainian Tours, Kiev
Ukrainian Tours, Donetsk
Ukrainian Tours, Dnepropetrovsk
Ukrainian Tours, Kharkov
Ukrainian Tours, Odessa
Ukrainian Tours, Krivoy Rog
Ukrainian Tours, Crimea
Ukrainian Tours, Zaporozhye
Ukrainian Tours, Poltava
Ukrainian Tours, Mariupol
Ukrainian Tours, Vinnitsa
Ukrainian Tours, Kherson
Ukrainian Tours, Sumy
Colombian Women Tours, Cartagena
Colombian Women Tours, Barranquilla
Colombian Women Tours, MedellinNEW!
Latin Women Tours, Lima, Peru
Latin Women Tours, Machu-Picchu, PeruNEW!
Latin Women Tours, Costa Rica
Asian Women Tours, Thailand
Asian Women Tours, Philippines
Multiple City Tours Information

Discover why more Romance Tour clients place their trust in A Foreign Affair each and every year than any other tour agency!
Now have all your Romance Tour questions answered by one of our Tour Representatives 7 days a week, from 9AM to 9PM MST, by calling our Tour Info line at (602) 332-7805
Announcing A Live Telephone Forum
to Answer YOUR questions about Foreign Brides!
Be a part of A Foreign Affair's only live telephone discussion group as our panel answers your questions concerning Foreign brides, immigration issues, cultural differences and Foreign marriage services/Singles Tours. Our panel often includes Ms. Jones, Immigration Attorney and Vice Chairperson of the Immigration section of the State Bar of Arizona, John Adams, President of A Foreign Affair, Bud Patterson, leading expert and author of Foreign Bride 101, past Romance Tour clients and real Foreign ladies who have married foreign men. You will be joined by up to 100 callers from around the world for an hour or more of informative, current, and important information for anyone considering meeting and marrying a foreign bride. It's free, informative, and fun, so mark it on your calendar and be sure to call in and join the conversation!

Please join us every Monday evening for our most popular General Q&A conference, Wednesday for the Asian Conference, all Conferences are from 9:30PM to 10:30PM Eastern Time. Thursday for the live webcast, (special time 8:30 PM Eastern Time) Participation is easy and FREE (normal long distance charges will apply). Simply call 1-404-920-6610 and when prompted enter conference code 935905# Once you have joined the conference simply press *1 to join the conversation!
A Foreign Affair

7227 North 16th Street, Suite 240
Phoenix, AZ 85020
(602) 553-8178
fax (602) 468-1119

Contact Us



THIS PROGRAM IS THE SOLE PROPERTY OF A FOREIGN AFFAIR AND MAY NOT BE COPIED IN ANY WAY OR FORM WITHOUT EXPRESS PERMISSION FROM A FOREIGN AFFAIR.

© COPYRIGHT 1996-2019 - ALL RIGHTS RESERVED.